Lia Dostlieva (Лія Достлєва), b. 1984, Donetsk, Ukraine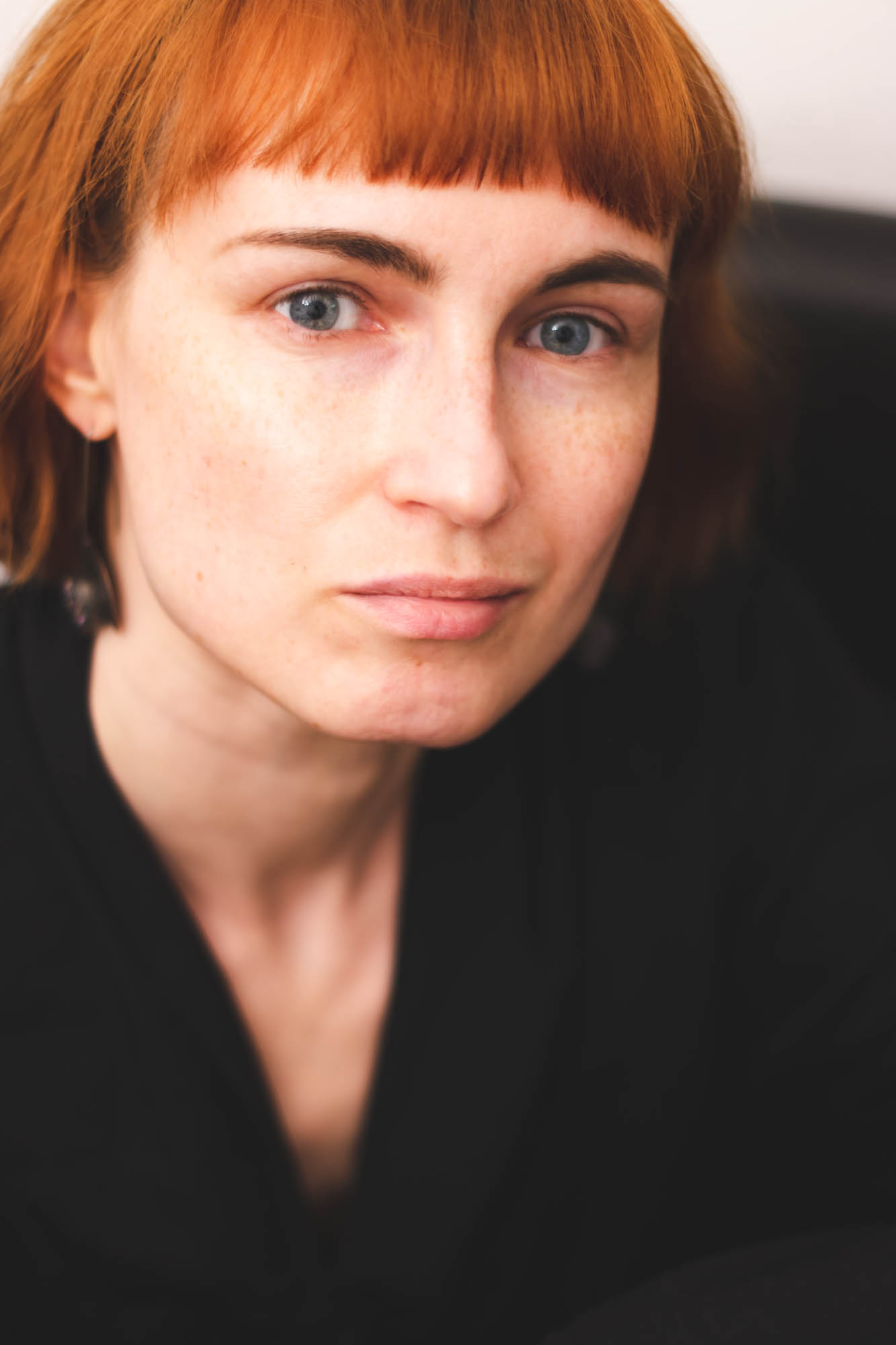 Artist, cultural anthropologist, essayist. 
Primary areas of my research include the issues of collective trauma, postmemory, commemorative practices, and agency and visibility of vulnerable groups. As an artist, I work across a wide range of media including photography, installations, textile sculptures, etc. since 2012.
Education:
Jan van Eyck Academie – Multiform Institute for Fine Art,
Design, and Reflection, Maastricht, Netherlands, 2022/23

Ethnology and Cultural Anthropology, MA, Adam Mickiewicz University in Poznań, Poland, 2017/19
Selected exhibitions:
ongoing
'Heart of the Earth' Mystetskyi Arsenal, Kyiv, Ukraine

2023
'Give Me Tomorrow', John and Maggie Mitchell Art Gallery, Edmonton, Canada 

2022
'Emplotment', Ludwig Museum, Budapest, Hungary
'Soviet Anthropocene 1933' (personal), CK Zamek, Poznan, Poland 
'(My) Home', National Museum of Art, Chișinău, Moldova
'Difficult Pasts. Connected Worlds', National Gallery of Art, Vilnius, Lithuania
'Licking War Wounds' (personal, with Andrii Dostliev), Tbilisi Photography and Multimedia Museum, Tbilisi, Sakartvelo
Triennale of Contemporary Ukrainian Art 'Ukrainian Cross-Section 2022. UKRAINE! UNMUTED', Central post office, Kaunas, Lithuania
'Material Nation', Urania, Berlin, Germany
'Occupation' (personal, with Andrii Dostliev),  Tabačka Gallery, Košice, Slovakia 
'Ukraine — The Path To Freedom', Akerk, Groningen, the Netherlands 
'Let them Weave! Contemporary Polish Sewn Sculpture', Studio Cannaregio, Venice, Italy 
'The Cockerel with Black Wings', das weisse haus, Vienna, Austria
'No Such Thing as an Innocent Eye', Ośrodek Sztuki Lescer, Zalesie Górne, Poland
'Zachmurzenie', Henryk Fundacja, Cracow, Poland 
'Melioracija', Chamber of Agriculture, Kaunas, Lithuania
'State of Emergency', State Art Gallery, Sopot, Poland
'Black on Prussian Blue' (personal, with Andrii Dostliev), Malta festival, Poznań, Poland
2021
'I still feel sorry when I throw away food…' (personal, with Andrii Dostliev), Odesa National Art Museum, Odesa, Ukraine
'Lost, dead, and pink' (personal, with Andrii Dostliev), Gerhart-Hauptmann-Haus, Düsseldorf, Germany
'Gray Mandorla Manifest', Gray Mandorla Studio, Poznań, Poland
Photobook Week Aarhus, Godsbanen, Aarhus, Denmark
'Odkształcenie / Дэфармацыя / Unlearning', Domie, Poznań, Poland
'Inscriptions of Identity. Belonging. Difference. Gesture.', Biuro Wystaw, Warsaw, Poland
'Licking War Wounds' (personal, with Andrii Dostliev), Izolyatsia, Soledar, Ukraine
'Ukraine. A different angle on neighborhood', MCK, Cracow, Poland
III textile biennial, Poznań, Poland
'WOLNE MIEJSCE', Łódź Czterech Kultur, Łódź, Poland
'Imaginary Architecture for Imaginary Communities', Centrala, Poznań, Poland
'Sensitivity. Contemporary Ukrainian photography', Mystetskyi Arsenal, Kyiv, Ukraine
'Give us this day…', Galeria Arsenal, Białystok, Poland
'Shame shouldn't be a symptom', Improper Walls, Vienna, Austria
'Black on Prussian Blue' (personal, with Andrii Dostliev), Shcherbenko Art Centre, Kyiv, Ukraine
2020
'Difficult Pasts. Connected Worlds', Latvian National Museum of Art, Riga, Latvia
'Licking War Wounds' (personal, with Andrii Dostliev), Centrala, Poznań, Poland
Futures Talents 2020, online
'Dealing with Memory', Frappant Gallery, Hamburg, Germany
'Brüdershaft', Kyiv, Kharkiv, Dnipro, Ukraine
'I still feel sorry when I throw away food…' (personal, with Andrii Dostliev), Ukraiński Dom, Warsaw, Poland
2019
I Feminnale of Contemporary Art, National Museum of Fine Arts, Bishkek, Kyrgyzstan
'An unduly restrictive view of salvation (Vinnytsia limbo)' (personal, with Andrii Dostliev), Dymchuk gallery, Kyiv, Ukraine
'Rituals of transition'. The IV Triennal of Ukrainian Art, Lviv, Ukraine
'Fairy Castles of Donetsk' (personal, with Andrii Dostliev), 20square7, Berlin, Germany
'I still feel sorry when I throw away food…' (personal, with Andrii Dostliev), European University Viadrina, Frankfurt (Oder), Germany
'I still feel sorry when I throw away food…' (personal, with Andrii Dostliev), The Menorah center, Dnipro, Ukraine
MUHi Young Ukrainian Artists, Taras Shevchenko Museum, Kyiv, Ukraine
II Biennale of Young Art, Kharkiv, Ukraine
'Displaced', Izolyatsia, Hybrid Contemporary Art Fair, Madrid, Spain
'Licking War Wounds' (personal, with Andrii Dostliev) iZone, Kyiv, Ukraine
'Dark', Izolyatsia, Kyiv, Ukraine (personal)
2018
Warsaw Photo Days 2018, Sinfonia Varsovia, Warsaw, Poland
'Conscious Sensation', Mystetskyi Arsenal — Mala Gallery, Kyiv, Ukraine
UNSEEN Dummy Award 2018 shortlist, Westergasfabriek, Amsterdam, the Netherlands
'Instant Time', Mystetskyi Arsenal, Kyiv, Ukraine
'I Lied in Visa Center', Gallleriapiù, Bologna, Italy
2017
The Festival of Young Ukrainian Artists, Mystetskyi Arsenal, Kyiv, Ukraine
'Tam, gdzie teraz', Labirynt Gallery, Lublin, Poland
'Reconstruction of Memory', DOX, Prague, Czech Republic
Curatorial projects:
'Reconstruction of Memory', DOX, Prague, Czech Republic /
Ukraiński Dom, Warszawa, Poland / Jeżyckie Centrum Kultury, Poznań, Poland / Izolyatsia, Kyiv, Ukraine, 2016 – 2017
Research projects:
Festivalisation of values. Axio-normativity of Music Festivals, researcher (art based research methods), 2019 – 2022
Books:

'Licking War Wounds', Lia Dostlieva, Andrii Dostliev, 89books, Palermo, Italy, 2022
'An unduly restrictive view of salvation (Vinnytsia Limbo)', Andrii Dostliev, Lia Dostlieva, self-published, 2020
'I still feel sorry when I throw away food – Grandma used to tell me stories about the Holodomor', Lia Dostlieva, Andrii Dostliev, introduction by Serhiy Zhadan, Rodovid, Kyiv, Ukraine, 2019
'Abobal->Yabobal', child book, (as an illustrator, photographer and author of the creatures) Lia Dostlieva, Dmytro Kuziakin, Zakenty Horobiov, Talent publishing house, Kharkiv, Ukraine, 2018
Scholarships and residencies:
2022/23 — Jan van Eyck Academie AIR Programme, Maastricht, Netherlands
2022 — Modernism for Future AIR, Kaunas, Lithuania
2022 — Artist-In-Residence Programme, CK Zamek, Poznan, Poland
2022 — Gaude Polonia Scholarship Programme for Foreign Cultural Professionals, Warsaw, Poland
2020 — "Kultura w Sieci" program, Ministry of Culture and National Heritage, Poland
2019 — Visiting Fellow, Ukraine in European Dialogue, Institute for Human Sciences, Vienna, Austria
2017 — Granica, Polish-Ukrainian residency project, Mariupol, Ukraine, Poznan, Poland
2014 — Gaude Polonia Scholarship Programme for Foreign Cultural Professionals, Poznan, Poland
Selected awards:
2021 — Photobook Week Aarhus, shortlist
2020 — Futures Talents 2020
2020 — Women in Arts-2020, a finalist in cultural journalism, critics, and research nomination
2020 —The Best Book Design Contest by Book Arsenal, Kyiv, shortlist
2019 — II Biennale of Young Art, 3rd prize
2019 — MUHi Young Ukrainian Artists, shortlist
2018 — Ukrainian Dummy Award, 1st prize
2018 — UNSEEN Dummy Award, shortlist