Lia Dostlieva (Лія Достлєва), b. 1984, Donetsk, Ukraine
Artist, curator, cultural anthropologist, author at Culture.pl, Czas Kultury, Korydor.in.ua, etc.
The primary areas of my research are the issues of empathy, trauma and postmemory. War and trauma themes were repeatedly present in my art practice since the time my country has been at war. I am particularly interested in how trauma comes to language, possibilities of representation of traumatic events and how "difficult knowledge" could be described and visualised.
As an artist I'm working across a wide range of media including photography, installations, multimedia, textile sculptures, interventions into urban space, etc. since 2012.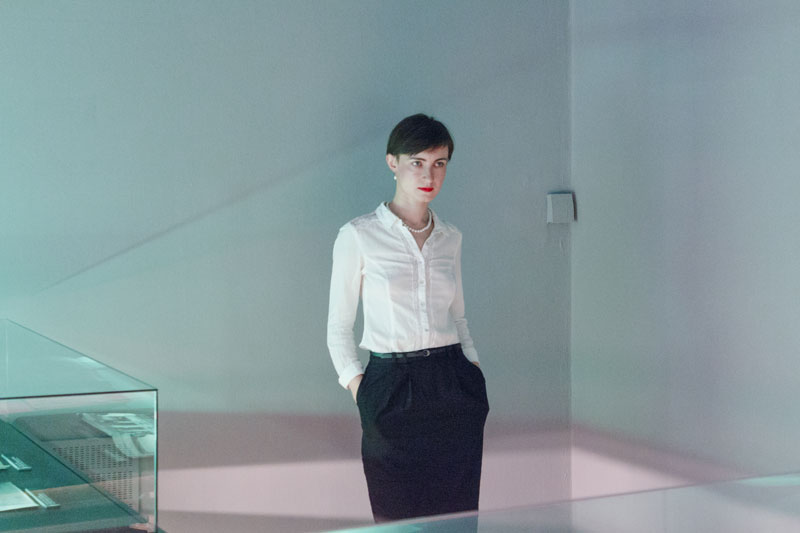 Photo by Oleksandr Bychenko
Education:
2017 – present: Ethnology and Cultural Anthropology, MA, Adam Mickiewicz University in Poznań
2017 – educational course "Genocide of Jews in Europe: Historical Perspective and Approaches", Ukrainian Center for Holocaust Studies, Kyiv, Ukraine and Berlin, Germany
2012-2013 educational course "Photography as a study", Fotodepartament, Russia
2011 educational course "Artist with camera", Alexander Lyapin's workshop, PhotoCult, Ukraine
Curatorial projects:
2017 Reconstruction of Memory, DOX, Prague, Czech Republic
2016 Reconstruction of Memory, Ukraiński Dom, Warszawa, Poland
2016 Reconstruction of Memory, Jeżyckie Centrum Kultury, Poznań, Poland
2016 Reconstruction of Memory, Izolyatsia, Kyiv, Ukraine
Solo exhibitions:
2017 Szurnięte ZOO, Pies Andaluzyjski, Poznań, Poland
2015 Hobotary, festival Ukraińska Wiosna, Poznan, Poland
2014 Connection, festival Inwazja Barbarzyńców, Poznan, Poland
2013 Sacrifice, da sein art gallery, Donetsk, Ukraine
Selected group exhibitions:
2018 Instant Time, Mystetskyi Arsenal, Kyiv, Ukraine
2018 Trzeba powiedzieć! Z archiwum społecznego gentryfikacji #2, Galeria Tak, Poznań, Poland
2018 I Lied in Visa Center, Gallleriapiù, Bologna, Italy
2017 They'll gonna kill us anyway, Galeria Luka, Poznan, Poland
2017 Granica, Inkubator Kultury Pireus, Poznan, Poland
2017 Granica, Port creative hub, Kyiv, Ukraine
2017 Granica, Platforma Tu, Mariupol, Ukraine
2017 WrocloveUkraina, CUKR, Wroclaw, Poland
2017 The Festival of Young Ukrainian Artists, Mystetskyi Arsenal, Kyiv, Ukraine
2017 Transcultural Emancipation, FLUC, Vienna, Austria
2017 Tam, gdzie teraz, galeria Labirynt, Lublin, Poland
2016 Teraz w Polsce, galeria Labirynt, Lublin, Poland
2015 Open letter. Naked emotions, Art14 gallery, Kiev, Ukraine
2014 Affect of memory, Minsk Center of Modern Arts, Minsk, Belarus
2013 Sacrifice, Kaunas Photo Days festival, Kaunas, Lithuania
2013 Sacrifice, Gogolfest, Kyiv, Ukraine
2013 Sacrifice, shortlist of «Golden camera» – international photo award 2012, Donetsk, Ukraine
2013 Sacrifice, shortlist of «Golden camera» – international photo award 2012, M-17 gallery, Kyiv, Ukraine
2012 Angel's letters, experimental group Look exhibition, Kyiv, Ukraine
2012 A Rememberer's Experience, Odessa International Art Fest, Odessa, Ukraine
2012 Epilepsy, Festival of Vital Arts MIMIKRIA, Dnepropetrovsk, Ukraine
Awards:
2013 second prize of «Golden camera» – international photo award 2012
2013 IV portfolio review finalist, Kyiv, Ukraine
2012 shortlist of Athens Photo Festival 2012
Selected publications:
2015 art book "Open letter. Naked emotions"
2014 DOC! magazine
2014 Annual pictorial by Eyemazing Susan
2013 Su-ture Volume Zero by Gomma Books London, United Kingdom
2013 UPHA zine by Makelab / Niice (Kyiv, Ukraine)
2013 Vizii: International visual culture festival catalogue (Kyiv, Ukraine)
Scholarships:
2014 The Gaude Polonia Scholarship Programme for Young Foreign Cultural Professional