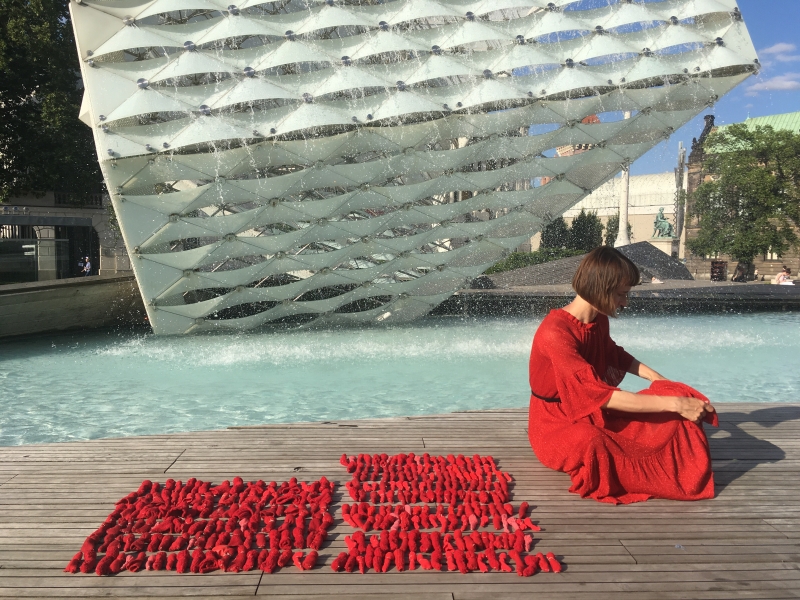 "298" was an 8 hours long performance during which the artist and the volunteers made 298 dolls which symbolise each of the victims from the MH17 flight downed by Russian-backed terrorists in Donetsk region, Ukraine.
---
I have never been especially fond of celebrating my birthday.
Because it's just another year that had passed and there's nothing in it to celebrate – another year of living, doing this or that, breathing, lasting, and your most important achievement is being still alive. You live.
I was born on July, 17th 1984 in Donetsk, Ukraine.
On July 17, 2014, on my 30th birthday, a plane was shot down not far from my birthplace. Onboard the MH17 flight there were 298 people, many of them going home or for the vacation. They all died. I still live.
Do I feel guilty that they died on exactly the same day that I every year used remind myself that I still live? Do I take the responsibility for their deaths over my homeland? Do I feel guilty that they were murdered by the same force that has been trying to destroy me and my country for already more than three years? Do I feel guilty that the hatred that killed them was targeting me and not them?
yes yes yes
---
On July 17th, 2017, I made 298 small dolls representing each of those who died on that day three years ago. And I invited everyone interested to join me and to commemorate together the deaths of people I never knew personally but still feel in a way related to.
We started at 10 am near the fountain at Wolności Square in Poznan and kept sewing till 6 pm.
I'd like to thank Monika Wińczyk, Hubert Wińczyk, Justa Mingie, Natalia Klupp, Paulina Richardsdottir, Christos Leontis, Paweł Zalewski, Ana Kavouras, Olga Zelenska, and everybody else who helped me on that day and whose names I, unfortunately, do not know (but I will gladly add them here too if you email me).
And special thanks go to Miruś Wińczyk, 3 y.o., who've made 3 dolls and a half.