The concept of our proposal for the Memorial to the victims of the Holodomor in Melitopol, Ukraine is based on four key points:
Performative nature of memory. Although tragic events of the Holodomor belong to the past, remembering them is a live process, which is happening here and now. Trauma connected to those events is still present in everyday practices and perception of reality. To highlight the performative nature of memory we are proposing the local community a ritual that enacts the process of collective commemoration: sowing and harvesting wheat together. At the same time, the memorial space is open for other commemorative practices.
Continuity of commemorative tradition. During the last 30 years in Ukraine a recognizable commemorative language was formed and therefore, to preserve this continuity, we have included into our project one of the most recognizable Holodomor symbols — ears of wheat. This symbol was re-contextualised and adapted to contemporary commemorative practices. Green growing wheat symbolizes the fact that even despite the tragic losses Ukrainians had survived and life goes on.
Inclusive symbol of tragedy that does not concentrate on purely rural symbols. Traditionally, memorials to the Holodomor victims use rural and/or religious symbols that exclude other social groups and make it harder for them to identify with the Holodomor tragedy as a part of common memory. However, tables are a universal symbol, they can be found in every home, regardless of geographic location, religious beliefs, and ethnicity. A table that is based in the center of the memorial is deformed in a way which makes it not functional anymore, which is a reference to the traumatic past.
"Never again". Wheat and fruit trees that grow in the park around the memorial create a symbolic presence of an additional food source in the city space as a reminder that such tragedies should never repeat. Green plants create a welcoming and friendly space for the visitors in the tradition of contemporary urban gardens.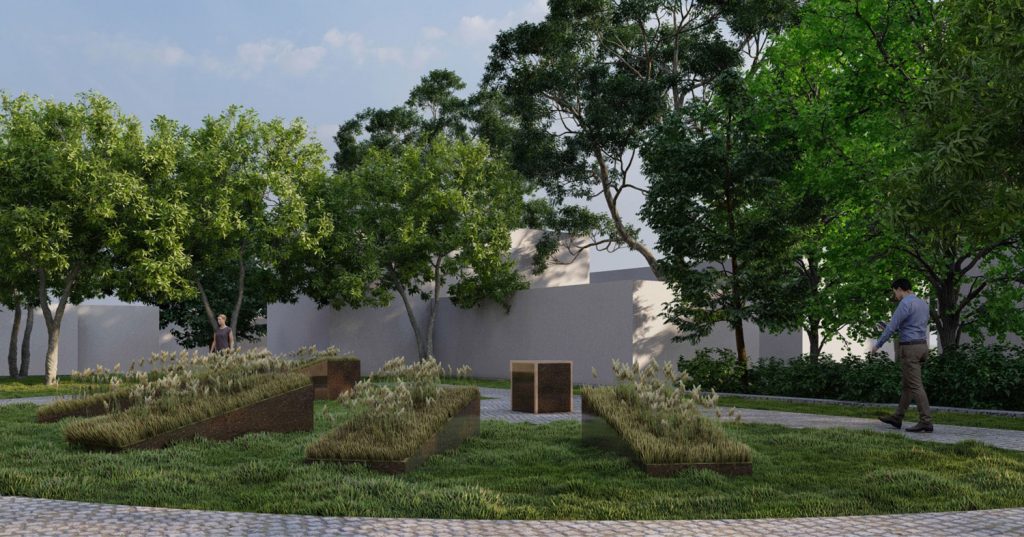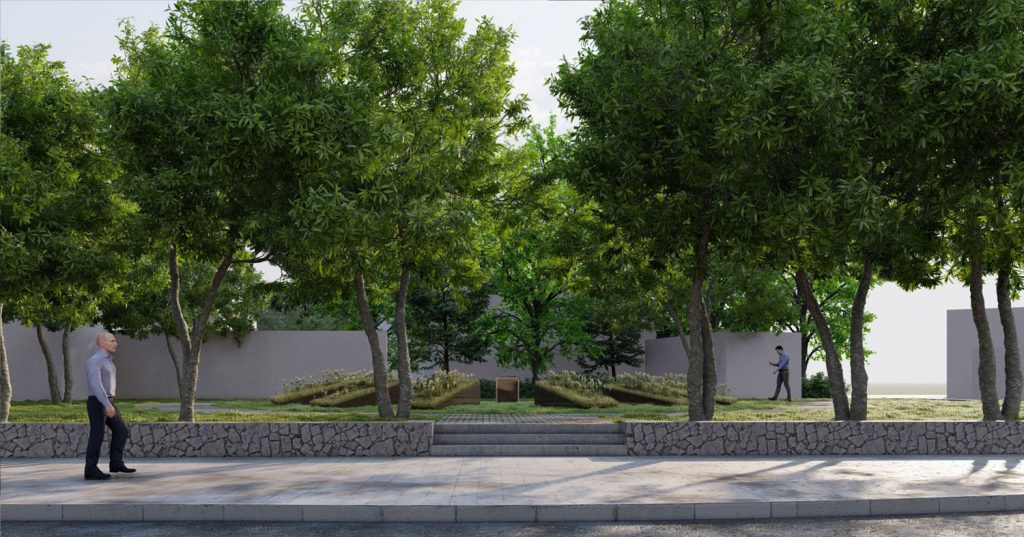 Visualisation: ФОРМА